Dishes2uTM Services
Dishes2UTM simplifies lunch or other meal/snack services by customizing the service to meet each client's needs.
Dishes2UTM is designed for organizations, schools, camps and groups with a minimum of 50 orders per day. Students/employees/members will be offered numerous meal choices per day from one to five days a week.
Once we determine the days, time(s) and any specific requests, Dishes2UTM negotiates with appropriate vendors that include popular area restaurants and other providers (for example frozen yogurt, Italian Ice & smoothies). The menu for the next month (or more) is then made available on an online ordering program for your team. We then help you promote the program offerings. Once individuals go online and register. Online ordering is a breeze and we are happy to share utilization numbers with you at any time!
We work hard to accommodate special needs, dietary requests and favorite restaurants. Dishes2UTM negotiates menu selections as well as pricing to ensure plenty of selection at favorable prices. Most entrees and sides come individually packaged but buffet options are also available.
Every school and business has their own preferred model of meal distribution. Dishes2UTM can help assess a format that works for you and will train those volunteer parents or designated staff from businesses to streamline distribution.
Dishes2UTM handles all financial aspects from paying vendors, to overseeing the online ordering program. Our fee is built in to the pricing structure so the organization saves time and money!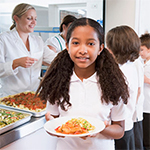 Schedule a complimentary, no obligation consultation today!
Call: 1-844-Dishes2u (1-844-347-4372)